Spring Irrigation Issues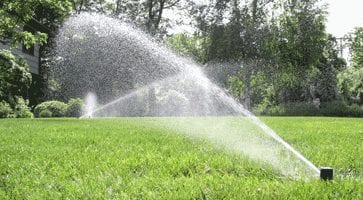 It's time to take a closer look at your irrigation timer. Spring is winding down, and even though we can all feel the temperatures going up, it's not the summer rainy season just yet. Which means, your grass and plants are counting on you and your irrigation system for the water they need to survive.

May is a tricky month. Grass is growing again, it's hot, but this is typically a dry month. To make sure everything stays green, you'll have to adjust your irrigation timer. In April, we suggest running your system for forty minutes, twice a week. In May, up that to 60 minutes, then take it down to 50 minutes in June. Our afternoon rainstorms will begin making up the difference in the water our landscapes need soon enough. And remember, always water in the pre-dawn hours. This allows the water time to get to the roots before it evaporates under the scorching sun.

Irrigation or insects?
This time of year, we get calls from our customers about yellowing and damaged grass. Many homeowners assume it's bugs, but in most cases, it's an irrigation issue. A few minutes at your irrigation timer may save the grass that you see fading away.

Here are some signs that you're having an irrigation issue:
• Leaf blades that look like they are folded in half
• The grass looks a little blueish-gray
• If footprints on the grass don't fill in right away

We know, the irrigation timer can be intimidating—all those options and switches. That's where we can help. Our crews know what every button does and how to program it for all of our seasons. The timer is only one part of the system; our guys check the sprinklers, rain sensors, back flow and pipes during each inspection. Give us a call if you're interested in our monthly maintenance package.

CLICK HERE FOR DETAILS ON IRRIGATION MAINTENANCE PACKAGE