Trees vs. Tropics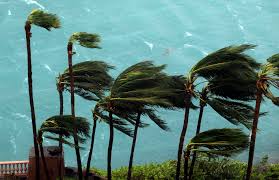 As we in Central Florida and the rest of the world slowly get back to normal after the COVID-19 quarantine, it's hurricane season. It starts in June and keeps us on high alert until the end of November.

The experts predict a tumultuous time in the tropics this summer. According to forecasters at The National Oceanic and Atmospheric Administration, there will be between 13-19 named tropical storms, 6-10 hurricanes, and 3-6 major hurricanes. That's a lot of activity—a sixty-percent chance of a higher than a typical season.

The numbers are just that, but it only takes one big storm to change your life. There's nothing you can do to stop a hurricane from blowing through your neighborhood, but there are ways to prepare for the worst when it comes to your house and landscape.

Tree tips
The first thing to do is look outside. Do you see any dead or damaged trees? It's better to prune or even cut down troubled trees now, then waiting until the meteorologist on the news informs you that the storm is hours away from landfall. Pruning encourages healthy growth and thinning the crown of the tree makes it more resistant to high winds.

Trimming works for existing trees, but there's even a better way to reduce the risk of storm damage, and it all starts with a plan-a landscape plan. The first step is tree selection. Some stand up better to hurricane-force winds than others. Here's a shortlist of the varieties less likely to send broken branches flying across your yard:

• Bald Cypress
• Crape Myrtle
• Live Oak
• Manila Palm
• Pygmy Palm
• Sabal Palm
• Southern Magnolia

The next step is where to plant your new tree. Before you dig a hole, look up. Don't place big trees or even small ones that will get big near power lines. Now, look at your house and follow these guidelines:

• 70 feet tall tree or above, 20 feet from the house
• Up to 70 feet tall tree, 15 feet from the house
• 30 feet or smaller tree, 10 feet from the house

Now, the last step, get your tree some company. Plant trees together and even add a few buses. The right combination of greenery creates a wind buffer.

We hope this hurricane season doesn't live up to the hype, but if it does, it's best to prepare for the worst. Trees can be tricky. If you need help determining if a tree in your yard is dead, need a hand pruning tall branches, and want to install a storm-safe landscape, please, contact us at ELT Landscape.