Brown Patch Lawn Disease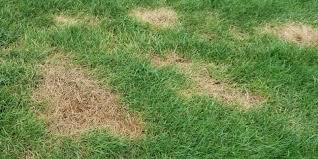 In Central Florida, we don't see many color changes in the fall. Let's face it; we don't get many leaf peppers here as our friends in New England. Some trees do change color under the Florida sun, but not many.

While you may be starving for some foliage and would love to see leaves turn brown, one thing you don't want to see change color is your lawn. The color brown is an issue. This blog look at the problem of brown patch. A lawn disease that you can see and even smell this season.

Brown patch fungus attacks St. Augustine and Zoysia turf grasses. This isn't a disease that pops up this time of year; it's one that's been festering for months. A combination of the high heat and heavy rains of the summer spawned the fungus that usually isn't visible until the fall.

Brown patch disease starts small, usually a small area less than a foot in diameter (or patch, hence the name). Blades turn red, change to brown, and then take on a straw-like appearance as they slowly die. Small patches devolve into big pieces with edges that are wilted and dark.

Besides seeing the disease, you can smell it. Sick grass emits a rotten odor. The smell is one way to tell the difference between brown patch and other lawn problems, like herbicide damage. Remember, this fungus stinks.

Now that you know you have a problem, the grass is brown, smells terrible, and you can pick it out of the ground without much effort; it's time to fight back. There are fungicides designed to kill it. But keep this in mind, your grass won't suddenly turn back into your favorite shade of green. Turfgrasses must be actively growing to recover, and this isn't growing season, so you'll have to get used to that brown patch for a little while.

The best way to win this battle is with a maintenance plan. If you take care of your lawn during all four seasons, brown patch disease won't rear it's ugly and stinky head in the fall.

ELT Landscape crews can keep your grass healthy by cutting it to the right length. Our irrigation experts will ensure that your blades are getting the correct amount of water. Contact us for a free estimate.

Keep enjoying your fall.