Pool Landscaping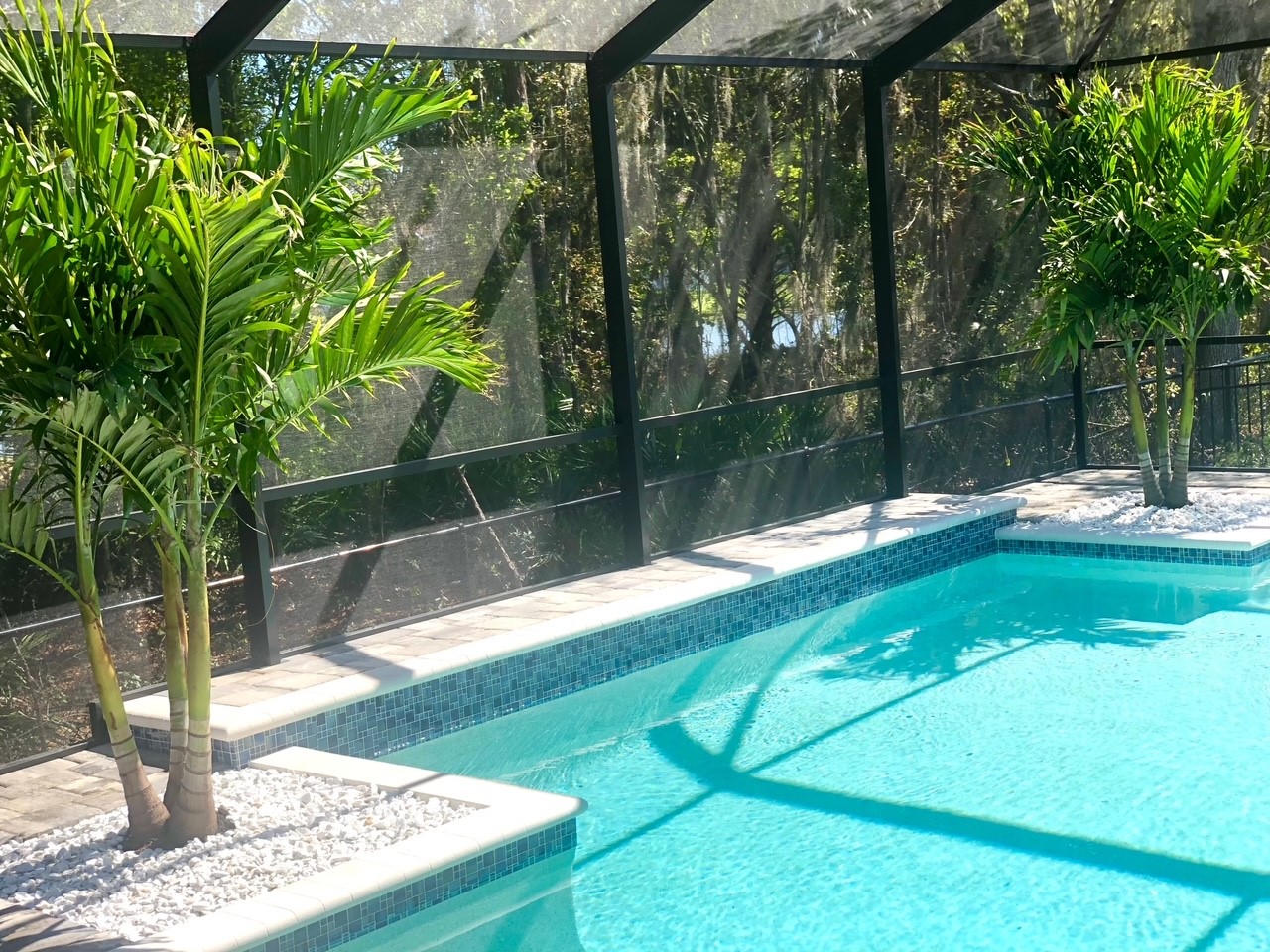 Pool time is back in Central Florida. As if it even left. The water may look inviting, but what about the landscape around it? Whether it's overgrown and ugly or you're just looking to see something new while you swim, this blog should help.

Trees are usually the easy answer to the question; what should I plant near my pool? However, this is a tricky question. Many trees drop leaves, flowers, and fruit that not only give you another chore, but the ones you miss can wind up in the filtration system and cause damage.

Roots are another issue. Some trees will grow and expand so much they wrap around pipes, cause concrete to pop-up, and possibly rip up the pool cage.

Check out this list of what trees to plant and the ones to avoid.
Plant
Palm tree
Citrus trees
Japanese Maple

Avoid
Crape Myrtle
Pine tree
Tulip tree

Now that we're done with the trees let's discuss shrubs. Depending on what you pick, bushes provide privacy and beauty to the backyard. Some of our customers' favorites are hibiscus and hydrangeas. The shrubs come in a variety of colors to give that your pool that pop. Another excellent option is the bird of paradise. It doesn't get more tropical than that.

Ornamental grass is a good option for pool landscapes too. They are low maintenance, fill in a large area, and give your pool landscape another texture and color. We like Yellow Fox Tail, Fountain Grass, and Zebra Grass.

Succulents are an option that you may not think of while pool-scaping. Species like Agave Attenuata, Sedum, and Crassula are evergreen and hard to kill. One word of warning, avoid succulents that have spines. Remember, you and your friends will be in bathing suits, and the last thing anyone wants to a needle in the leg or worse.

If you can't commit to a landscaping plan, a container garden is your best option. Potted plants are easy to take care of, and if you don't like the way it's turning out, rip out those flowers and start over. Better yet, if the container isn't too big, you can move it around. When it comes to creating a container garden, follow ELT Landscape's rules. Every pot needs three things, a thriller, a spiller, and filler. Give us a call, and we'll explain what that means.

Poolscaping can be overwhelming. Certain trees and plants thrive near pools, and others do not, and worse of all, some can be downright destructive. That's where we come in, contact us, and we'll give you a pool landscape that will make any Orlando resort jealous.